Everyone loves an upgrade. And if said upgrade is free, it's a no-brainer. But even when there's a cost involved, we're likely to weigh up the pros and cons.
When it comes to selling your home, the question upgrading is an important one. Whether you're listing with an online or high street estate agent, there's every chance that your home will feature on Rightmove – the UK's largest property portal.
Millions of people browse Rightmove daily, and it plays an essential role in getting eyes on your property. The Premium Listing on Rightmove is an add-on that can increase interest by up to 25%, with premium-listed homes often selling up to 30 times faster than a regular listing. 
Everybody loves an upgrade. But should you upgrade your property to a Premium Listing on Rightmove?
Rightmove: the details
Rightmove receives an average of 110 million visits per month, with properties featured on the site five times more likely to sell. It's one of the reasons that estate agents put their listings on Rightmove. Emoov is no exception.
When you list your property with us, we advertise it on our own site as well as the major property portals like Rightmove and Zoopla. The result means you get more people looking at your home daily, and thus the chances of viewing requests increase.
But what about Rightmove's Premium Listing, and is it available on Emoov? The good news is that you can get a Rightmove Premium Listing when you market your property with Emoov.
But what exactly does a Rightmove Premium Listing entail?
What do I get with a Premium Listing?
There are three types of listings on Rightmove: Regular, Premium and Featured. The Regular version sees your property marketed on the portal. The Featured Listing is a supercharged version which gives you all the bells and whistles.
See the pros of a Featured Listing here. 
However, for many, the Premium Listing is more than enough to service their needs and sits nicely in between Regular and Featured. With a Premium Listing on Rightmove, you get:
• Premium Listing on desktop, tablet and phone apps
• More images for your listing
• Decorated box with an icon to make your property stand out
Having the option of more images increases the chance people clicking on your advert. In fact, Rightmove statistics reveal an increase by up to 25% for Premium Listings, which is, in part, down to the larger number of photos on a listing.
The role of Emoov in Premium Listings
When you list your property with Emoov, we automatically market your property on portals like Rightmove, Zoopla, and PrimeLocation. Adding a Rightmove Premium Listing costs is ideal for those who perhaps aren't seeing the demand they expected for their property.
We also recommend a Premium Listing for people who have properties with uncharacteristic features and want to show these off. The Premium Listing's extra photos mean that you can present more of your property to potential buyers.
The Premium Listing can be a handy extra that gives your home a boost on the sales market. Whether or not you want to make the most of this feature comes down to your desire to get a quick sale.
Introducing the Emoov Premium and Pro Packages
Homeowners selling with Emoov can now purchase our Premium and Pro packages, designed to give properties the best visibility and reach the largest pool of buyers. A Rightmove Premium Listing is included in the Pro package.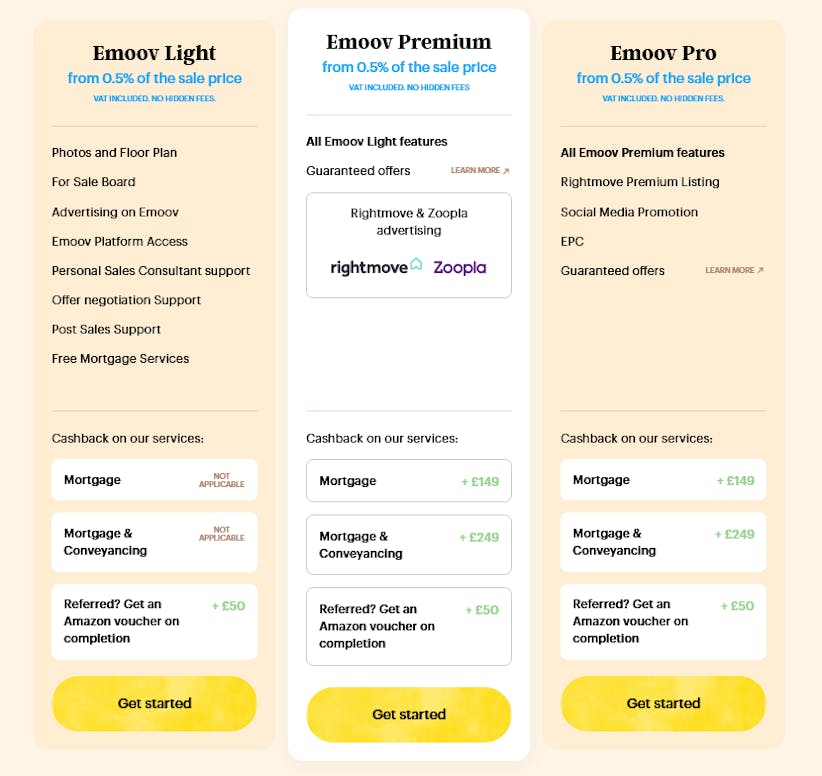 Get an even better deal!
Receive up to £249 cashback upon completion for the Premium and Pro packages when you choose our conveyancing service and mortgage service to complete your sale and your onward purchase. Our mortgage advice has a range that covers the majority of the market from 90 different lenders and over 12,000 mortgage products. It also comes with your dedicated and proactive post offer support.
If you would like to know more about selling your home, along with Rightmove's Premium Listing and our packages, get in touch with one of our property experts. They will be happy to talk answer all of the questions you have about selling your home with Emoov and the property portals.